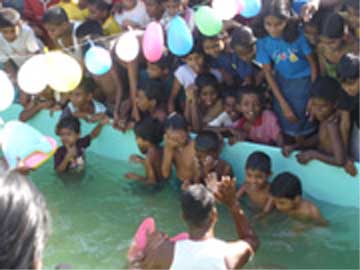 We came across Swim Lanka in February 2005. Spearheaded by Julian Bolling, Sri Lanka's best-known swimmer, Swim Lanka is a charity established to promote swimming in Sri Lanka. Set up post-tsunami, its initial aim was to give coastal children the chance to overcome their fear of water and learn to swim. Many lives lost in the tsunami would have been saved if everyone had been able to swim. Most don't know how.

We partnered with Swim Lanka in the Galle area, providing funding for pools, materials and coaches. Initially, suitable locations for installing pools are found, every few miles both sides of Galle. The fiberglass pools are 5 by 3 by 1 metres. Swimming coaches are drawn from the local community, trained at Julian's Colombo Academy and given permanent jobs with Swim Lanka. The schools, temples, mosques and churches in the vicinity are visited and with the help of the priest or teacher application forms are distributed to suitable children, ages about 4 or 5 to about 11.

Courses run for about 5 weeks and include 10 classes per child in groups of 6. There follows a graduation ceremony where certificates are distributed, speeches are made, and a group photo is taken. If there are more children in the area we run another course if not we move the pool to a new location

By early November 2005, we had enrolled close to 900 children in these courses, and over 400 had graduated. Courses have been or are being held at the following locations: Katugoda, Unawatuna, Talpe, Habaraduwa, Goviyapana, Pitiwella, Ovakanda (Rathgama) and Dadalla. Our ultimate aim at least within this phase of the project, is to offer this training to all effected coastal children between Matara and Ambalangoda.

The practical and safety benefits of the programme are obvious, as is its help in addressing water-related fear and trauma. Beyond that it is just plain fun, providing children with an organised after-school activity where there are virtually none. The sea of smiling faces at opening or graduation ceremonies testify to the benefit these courses bring to these unfortunate communities.




Touched by the attention
Parents of children enrolled in these courses were also very appreciative of the opportunity given to their kids by Swim Lanka. Like their children, they didn't want the courses to stop. This stresses to us the importance of the second phase of Swim Lanka's work, which is to try to build a series of larger community pools throughout the Island.

At a recent graduation ceremony at Goviyapana, one mother got up and made a moving speech of thanks to Swim Lanka and FoS
'….for giving an opportunity to the children of this poor village that we never dreamt of. My son and I were both really afraid of the sea after the tsunami. Going to the course was the first time we had been back to the beach. Now my son has overcome his fear by learning how to swim, and we are indebted to you for this.'

Unexpected bonus
Though the principle beneficiaries of the courses are children, the coaches themselves are provided with full-time jobs. Creating solid livelihoods in troubled coastal areas is a very valuable function of Swim Lanka. After securing a full-time coaching job in the Galle area, one man – DG Nilanga – was able to marry his childhood sweetheart.